Guide to Software in
Climate Tech
Hi there! If you're ready to jump in, go ahead. If you landed here and are thinking "where am I, and who are these people?" head down to About the authors. Choose your own adventure, and godspeed!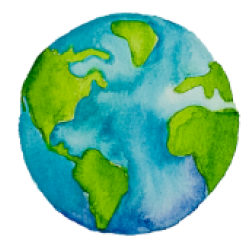 Introduction
What's preventing product builders from working on climate problems? We spoke to hundreds of tech professionals in senior roles—PMs, Directors, Engineers, Designers—and the answer we heard over and over was: 'This isn't a software problem."
We disagree. If you can code, design, market, sell or do anything to help create a product, you can help.
This guide
The purpose of this guide is to open product builders' minds to the unparalleled scale of opportunities that sit in front of us—most of which are currently under or unstaffed. We are in the midst of the largest upgrade our modern society has encountered, and you have at your disposal the ability to use the fastest deployed lever in modern society—software.
A mental model for combating climate change
Before we jump into the product opportunities in climate tech, it's worth anchoring on the big picture of what needs to happen. Fortunately, Nan, who leads Stripe Climate has synthesized this already! This is her summary:
One aside on time: 2030, this halfway point, is only 6.5 years away. We need to get moving. And very quickly.
We need to achieve the goal above and adapt to the changes currently occurring or expected to occur, even on a 1.5C path. In other words we need to 1) reduce emissions, 2) remove carbon, and 3) adapt to changes. John Doerr has built a plan and evergreen OKR tracker covering our progress in achieving Lever 1 and 2 at Speed & Scale including accelerating factors: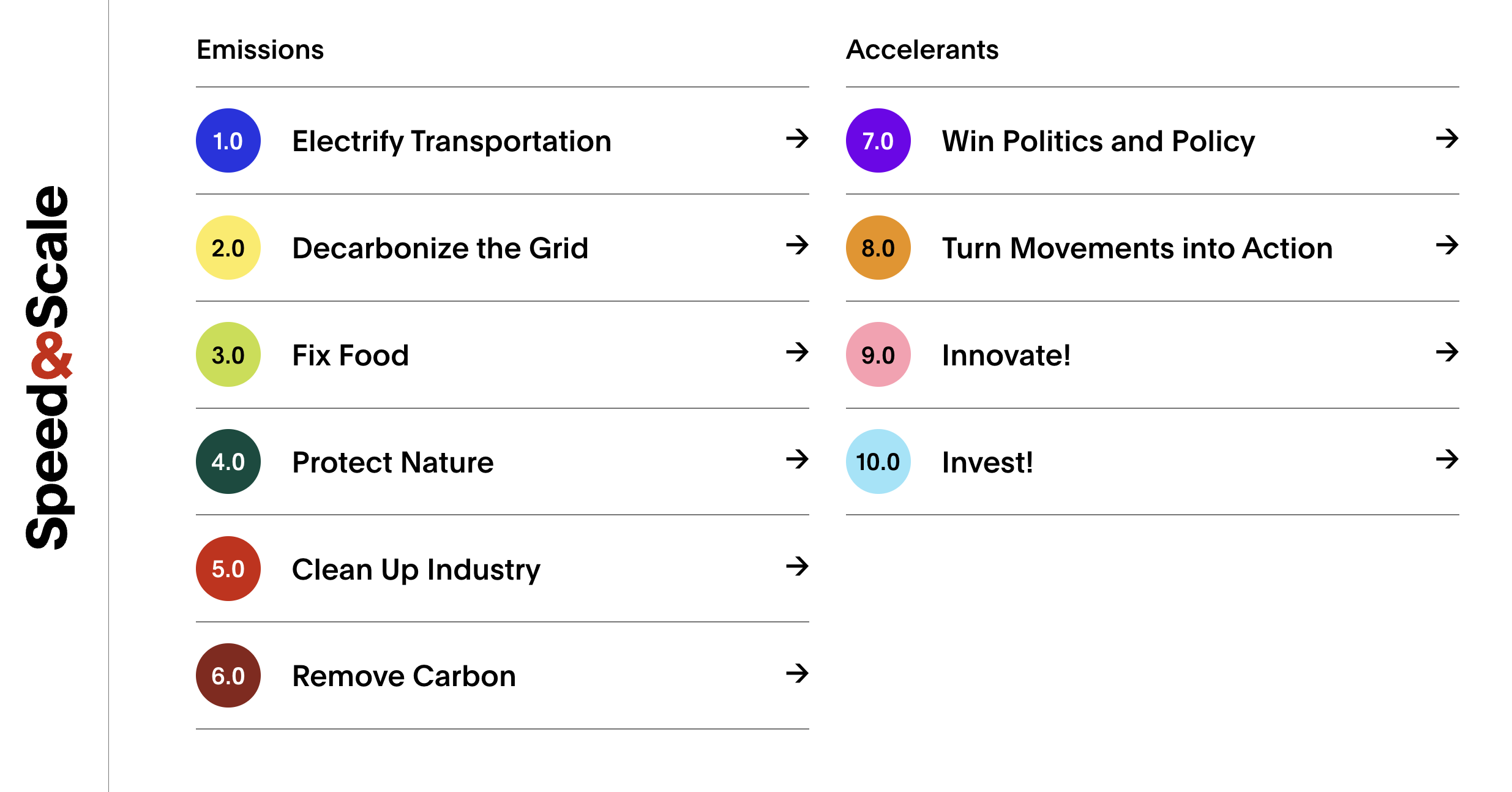 Is it too late to improve things? No—the more we can do and the sooner we can do it, the better. This continues to be true across the whole spectrum of outcomes.
The opportunity
This is the challenge of our generation—a global crisis that is causing food and water shortages, uninhabitable regions, millions of climate refugees, and biodiversity collapse. For many in wealthy countries the impacts were felt "over there" until they began experiencing record wildfires, hurricanes, floods, and other odd weather events (e.g. Texas freezing, Germany flooding, Australia burning).
Working to decarbonize society is the opportunity of a lifetime—a call to help billions of humans and the natural world in foundational ways. Plus, you can be on the receiving end of perhaps the most massive flow of capital in history. While we've ramped our global investment in the clean-energy transition to over $1.1T annually in 2022, our models for hitting net-zero by 2050 require us to grow this to $7T+ per year. That's equivalent to the entire United States budget, every single year, spent globally on investment in a new energy economy.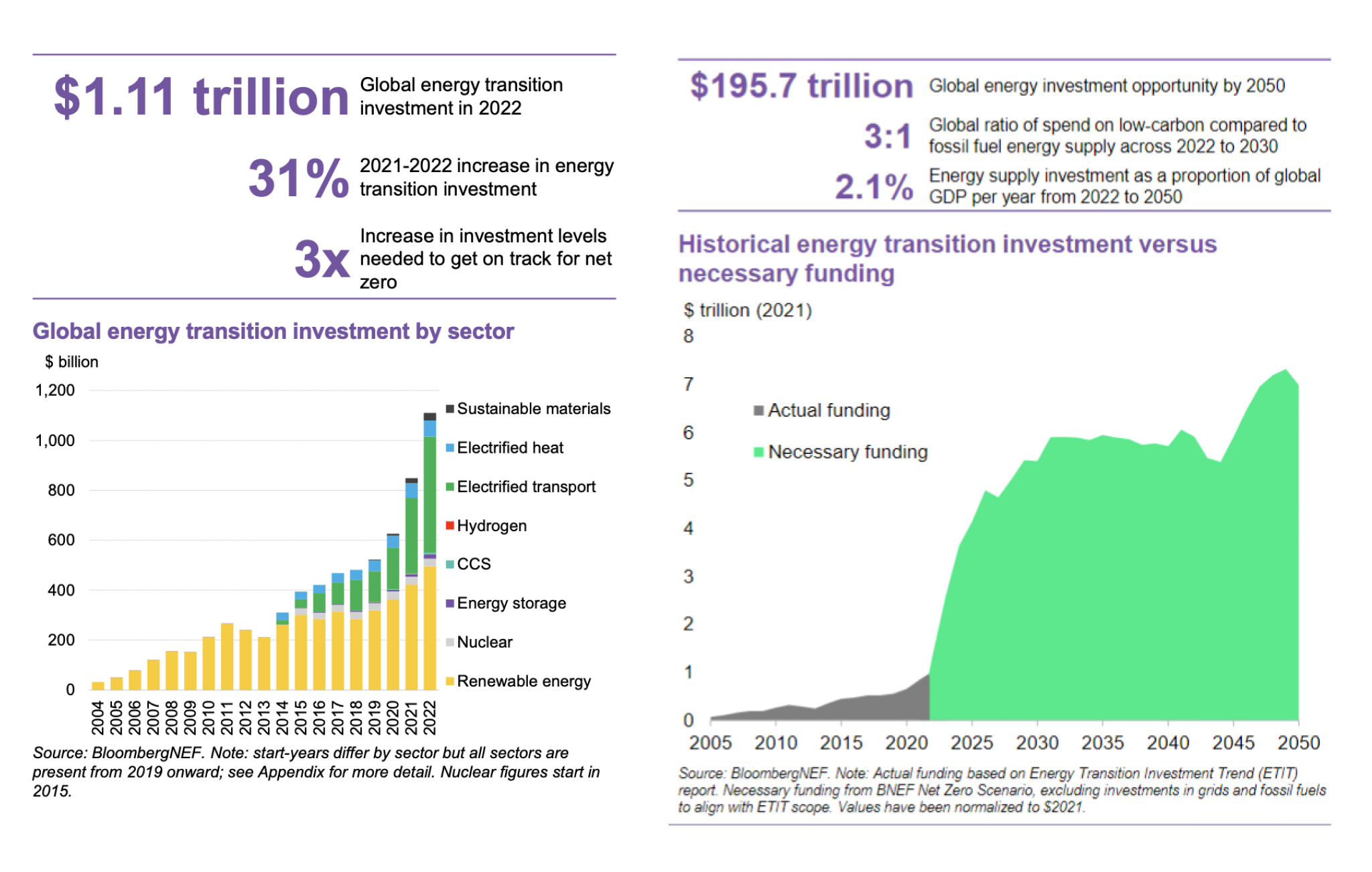 What we call "software"
As has become lore in the tech industry—"software is eating the world." We've come to accept that transportation, financial services, hospitality, real estate, and even our groceries are provided by "software" companies. Many in the US now buy toilet paper from the same company that provides the data center infrastructure that streams videos to their phone. It is with this expansive lens that we must look at the immense opportunities we have in front of us with climate tech.
Software in climate tech builds upon the last 30 years–the rise of the internet, mobile, enterprise SaaS, fintech, and now AI. We can build products that leverage the distribution, personalization, interconnection, and processing capability unique to software and point them right back at our physical world. -Cody Simms, partner at MCJ Collective
What is "climate tech"
The rise of the personal computer, the internet, mobile, LLMs, etc. are all moments that have driven a cycle of new technology adoption. Those cycles were born within the tech industry and deployed outward.
Climate is, instead, a physical reality that is motivating a global societal transition. As time marches on, the impacts of climate change get bigger, motivating our transition more intensely—from how we get around, generate our energy, build our cities, and grow our food. It touches everything.
It is perhaps this scope that overwhelms most of us when we first jump in. We want a golden solution to solve "the" problem. However, what got us here was the dispersion of fossil-fuel based technologies powering our modern lives over the last two centuries; we now must build and disperse solutions at an equal, dizzying, scale. "Climate tech" is the application of technology to accelerate this far-reaching transition in our society, and software is a cornerstone technology that enables us to impact at the required scale.
Next up, we look at two frameworks that model exactly how software plays a role, followed by how to learn more and get involved.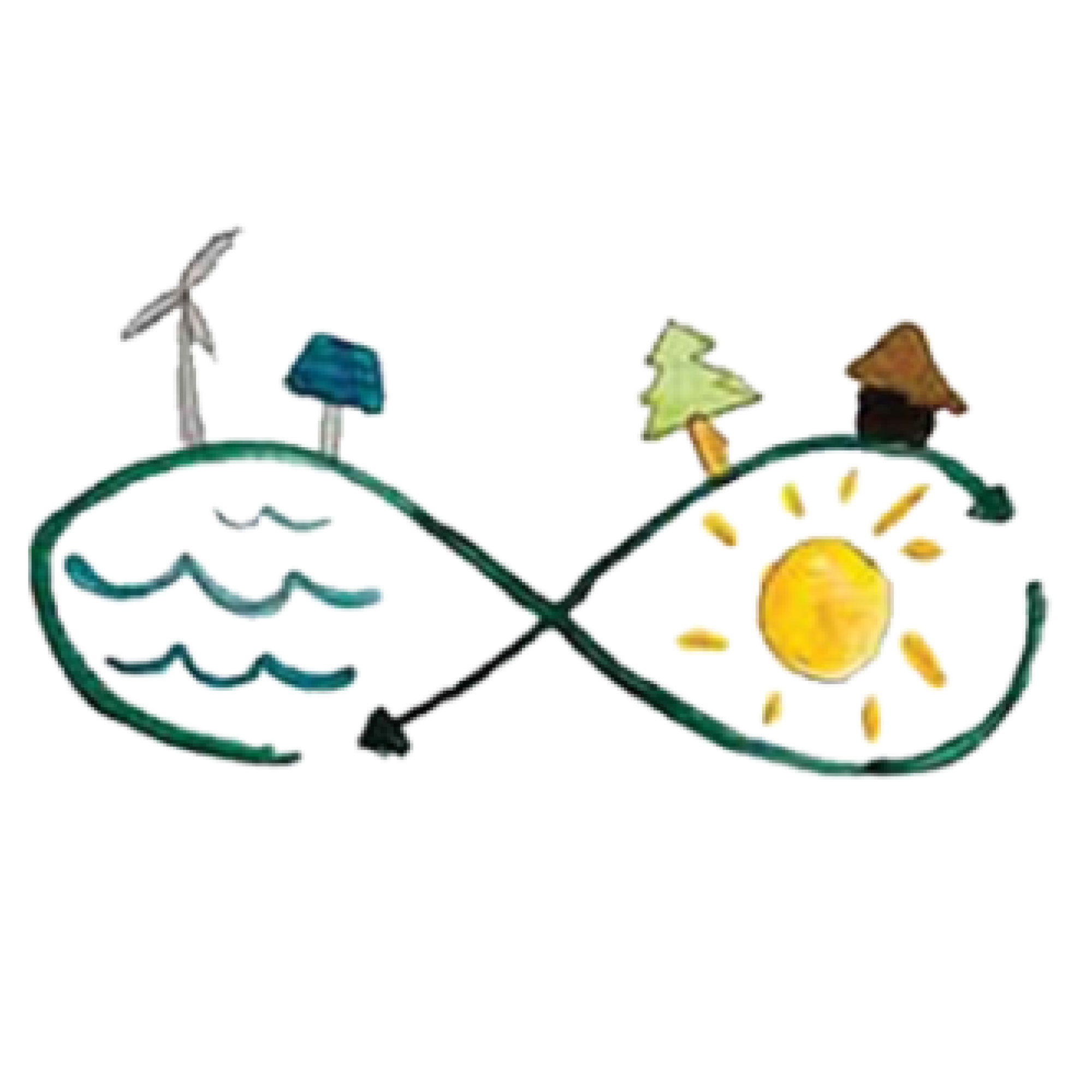 What is the product?
This first framework starts with answering the following questions: what is the role of software in delivering value? How does this apply from pure software to hardware devices?
Software can be the product, output the product, deploy the product, enable the product, or design the product. To give some analogies to current industries: Airtable or Slack are the product themselves. Stripe's software enables payment actions via API. Airbnb's software powers their marketplace for vacation homes.
What is being bought?
| | Software | Data/Actions | A thing |
| --- | --- | --- | --- |
| Examples: | Airtable, Slack, MS Office | Stripe, Plaid, Twilio | Airbnb, Amazon Retail, Uber |
| Pricing: | SaaS, seat license, etc. | Usage based per action or data received | Per purchase, usually as margin in a transaction |
Now let's bring this spectrum into climate tech, starting with the products that are pure software (e.g. design tools) to those that are primarily hardware (e.g. HVACs and EVs).
Design tools & Dashboards
A pure software category is specialized design software for a particular vertical. Just as every UX designer needs Figma,every solar engineer needs a tool for designing custom solar systems. What else is like this? EV charging infrastructure, utility grid design, commercial HVAC systems, battery storage systems, farm management, and so much more!
Analogies: Figma, Adobe, Jira, Salesforce
Pricing: SaaS, Enterprise contract
Examples: Aurora Solar builds solar system design software and Flipturn builds EV fleet management software. Conduit is building new HVAC system design tools.

Accounting tools
Entirely new accounting, reporting, and forecasting needs are being introduced as governments, investors, employees, and customers are requiring business to (literally) account for their emissions. This includes tracking everything from the burning of gas to heat an office building (Scope 1), the energy purchased from the utility (Scope 2), or the web of emissions caused by one's supply chain (Scope 3) in the delivery of a product. Each business must understand, plan, and take action against their entire world of emissions.
Analogies: NetSuite, Ramp, Vanta
Pricing: SaaS, Enterprise contract
Examples: Watershed helps businesses report and analyze emissions. Tangible Materials helps building developers improve their practices. Climate Club encourages employee behavior change to reduce emissions. Bend augments a corporate card with emissions tracking. Lumen Energy enables building owners to profile their buildings and plan upgrades.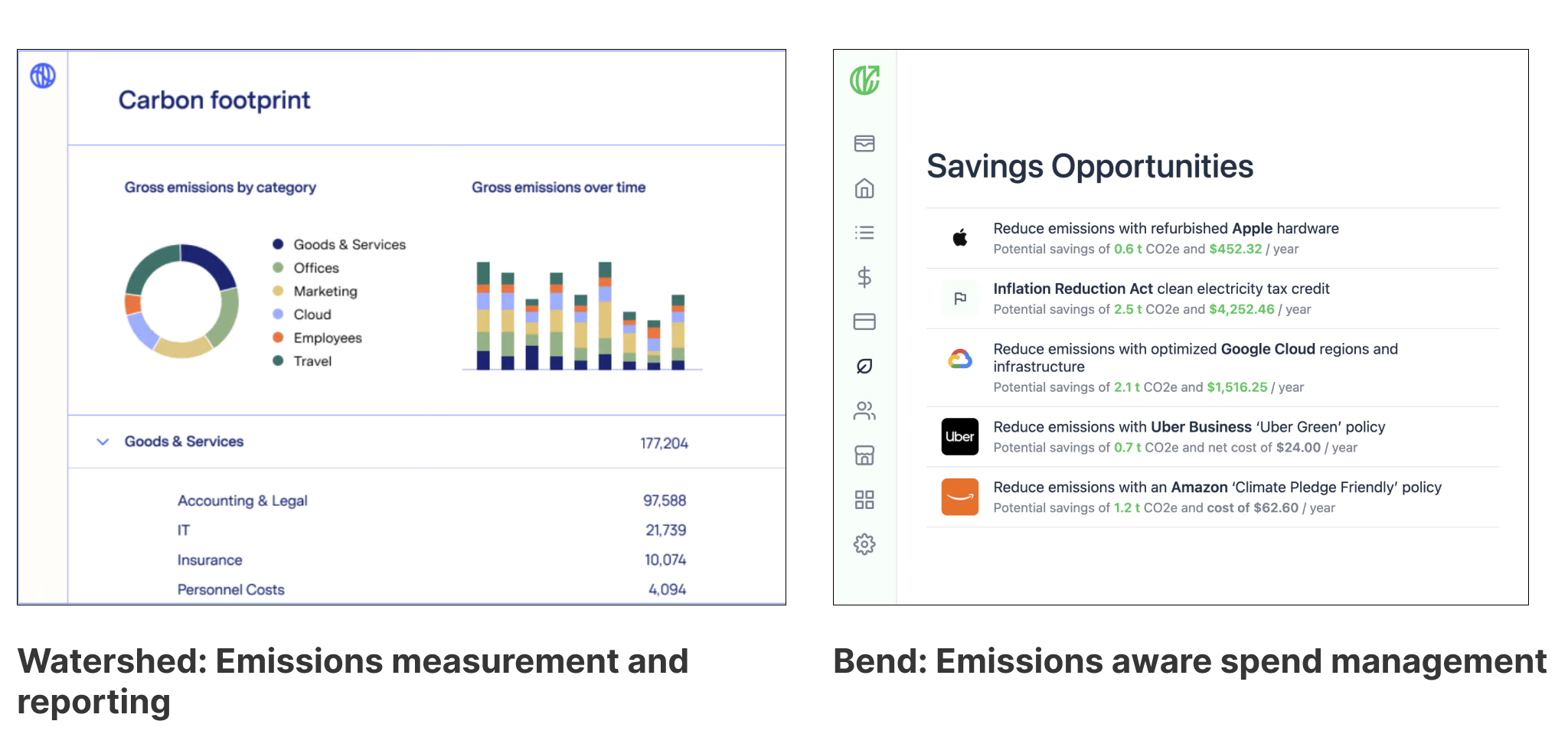 Data and Actions
To power the deployment of decarbonization programs, we need to access, synthesize, and act on large amounts of disparate data. Many actors trying to push the market forward face similar issues—utilities want to understand their customers' usage behaviors, solar installers want detailed utility data, governing jurisdictions want to provide accurate incentive information, land stewards need to identify new parcels for farming, and financial lenders want to package financing. We need an ecosystem of APIs, with polished user experiences and reliable access to historically inaccessible data.
Analogies: Plaid, Stripe, Twilio
Pricing: Usage based, per data call or action
Examples: Bayou Energy is building a utility data API with instant data and onboarding. Eli.build is building an incentive data API and UI components for municipalities. The First Street Foundation (non-profit) gives API access to a hyper-local climate risk model that is used by governments, lenders, and consumers. Enode builds an API to connect to any energy device and build smart controls (e.g. smart EV charging). Farm builds a data-rich tool to help farmers find regenerative-friendly land.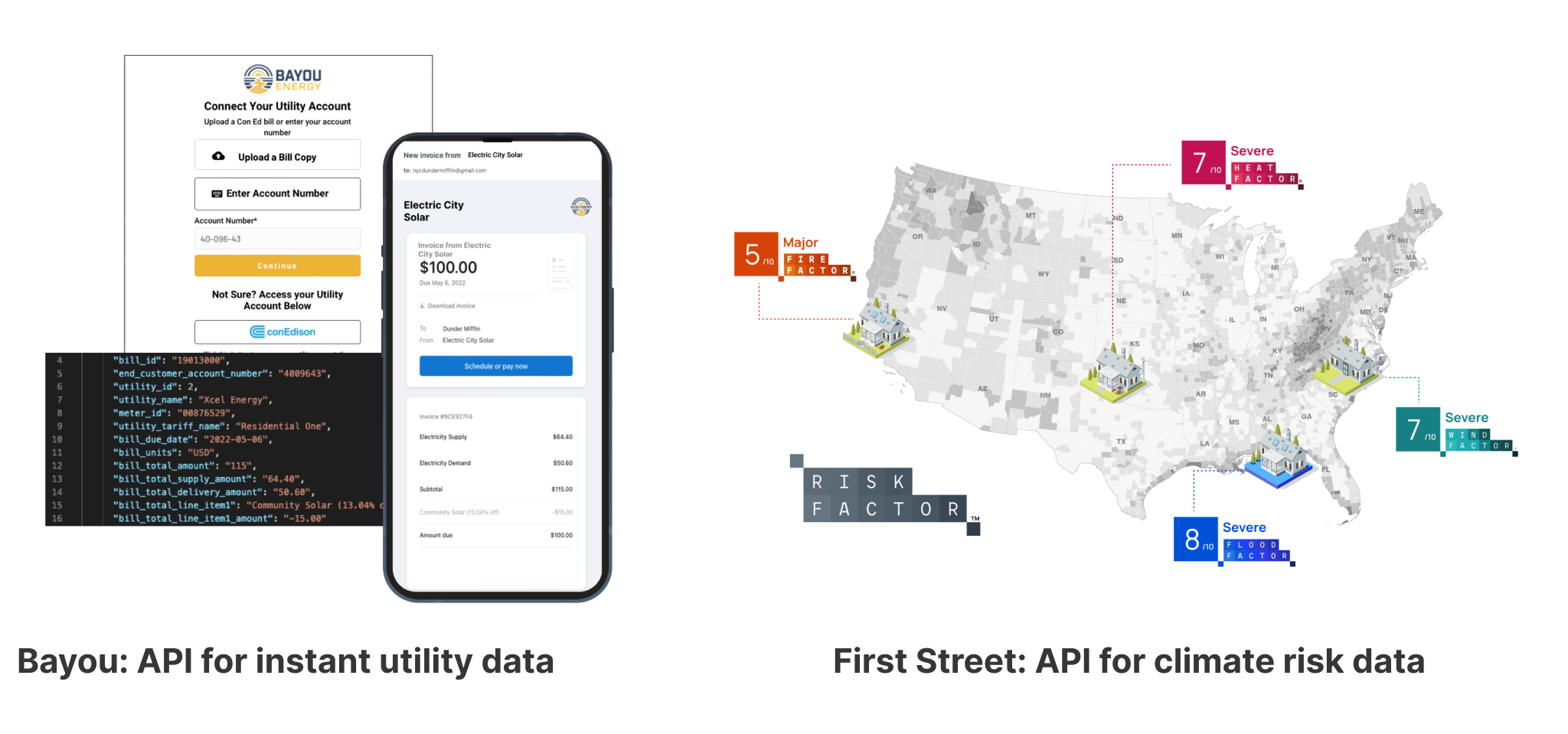 Financing
The primary instruments of government to combat climate change are 1) regulatory (e.g. no more gas car sales) and 2) financial incentives. Effectively managing #2, the distribution of trillions of dollars, is a massive fintech opportunity. Banks are often tasked with distribution, but are proving ill-suited to serve all but the largest projects. We need to effectively reach new customers by either building tools for banks, or competitors to banks. Many of the most valuable incentives are complex for smaller businesses and consumers to manage (have you ever transferred a tax credit to someone else before?)—creating an opportunity for well designed fintech. Beyond traditional finance, there is a wave of companies offering consumers "Energy as a Service". Instead of installing solar yourself, you can subscribe to a "third-party owner" that installs and manages the system on your roof. The same principle is being applied to other home improvements, ranging from insulation to HVAC systems.
Analogies: Affirm, Klarna, Monzo
Pricing: Origination and transaction fees, depository interest
Examples: Atmos Financial helps banks finance residential solar projects. Allectrify helps banks and municipalities finance small to medium sized commercial projects. Mosaic offers financing through contractors; some ex-Mosaic folks founded a startup studio focused on fintech x climate called Ezra. Ambrook connects farmers to funding opportunities, and Steward allows them to raise crowdsourced funding.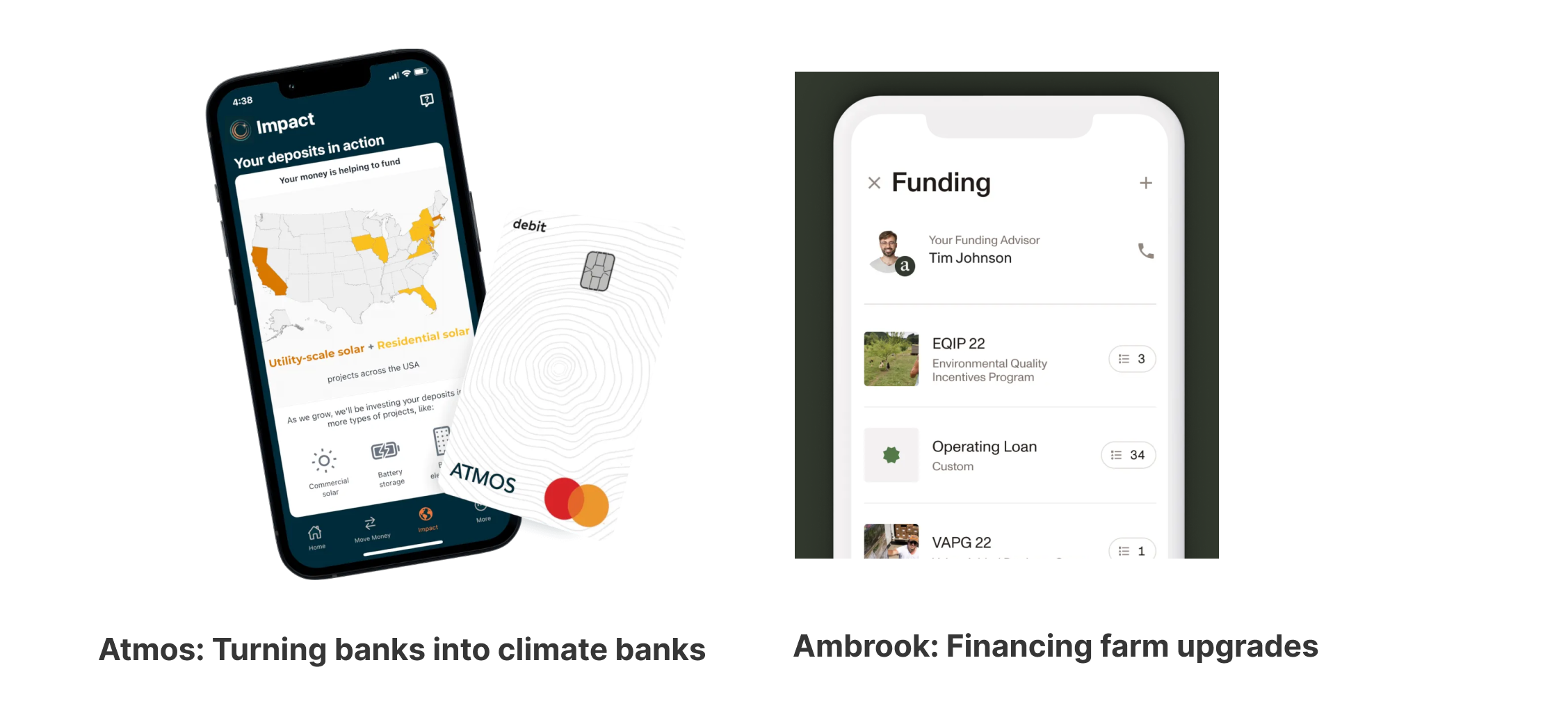 Marketplaces
New products, funding, services, and people need to be matched across nearly every industry. Each is an opportunity for a marketplace.
Analogies: LinkedIn, Airbnb, Uber, Amazon Marketplace, TrueCar
Pricing: Marketplace transaction margin and advertising
Examples: Recurrent builds a marketplace tool to value used EV batteries. Evergreen helps businesses find and fund renewable energy projects. Patch is a marketplace for carbon removal. ClimateFarmers funds European farmers transitioning to regenerative practices via a marketplace for carbon. InRange helps EU landlords add clean energy to their buildings and monetize it via a marketplace for energy buyers. Terra.do, Climate Draft, Climatebase, and Greenwork are all social software platforms helping bring more talent into the space.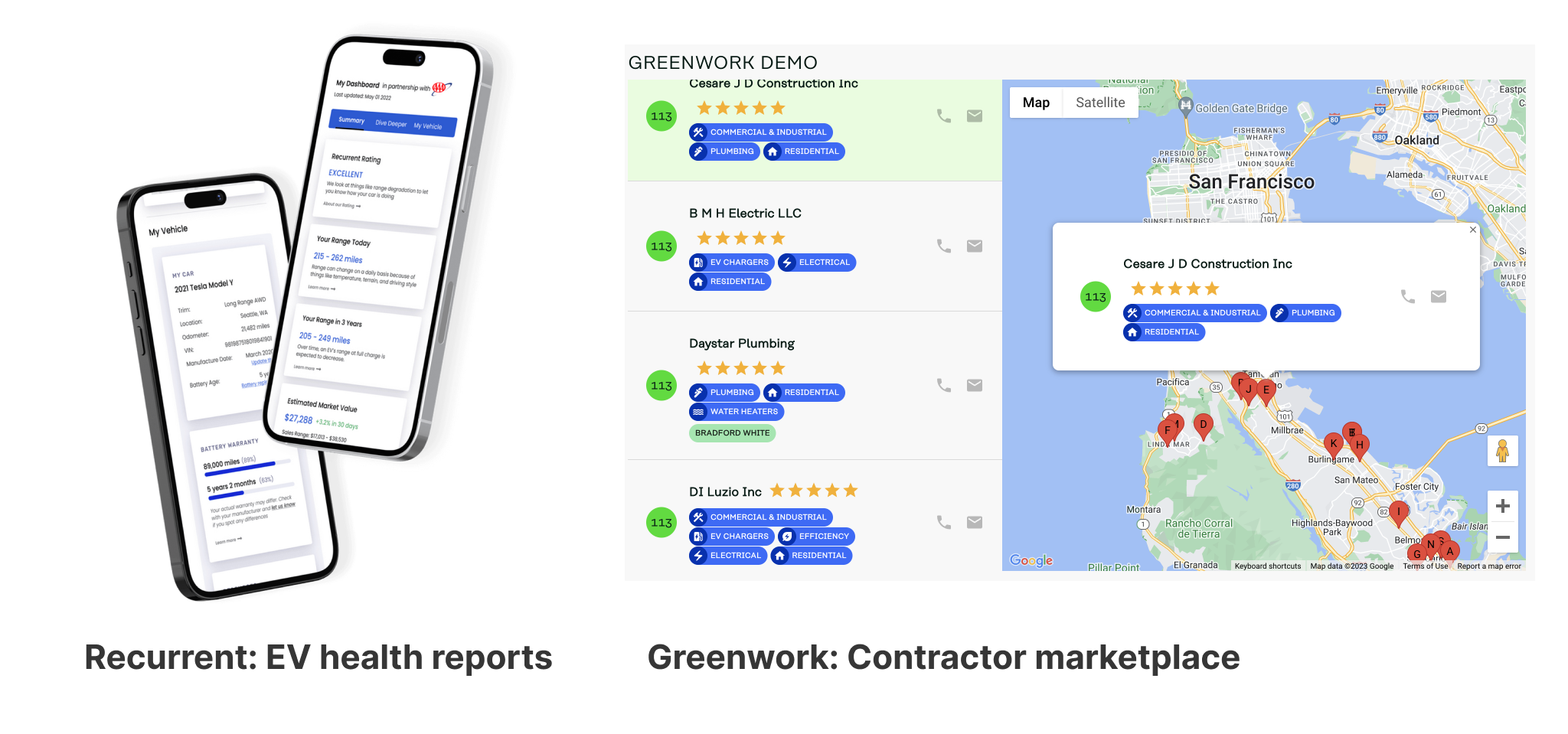 Deployment
Someone needs to manage the installation of building upgrades, scaling of direct air capture technology, and introduction of new farming practices. Software will create efficiencies that can reduce the cost of deploying these real-world changes by automating the experience for customers and contractors doing the work. There will be many different models, from fully vertically integrated experiences (e.g. we help you install an EV charger) to companies solving a horizontal slice of a deployment (e.g. better billing).
Analogies: Yardzen (landscaping), Ergeon (fencing)
Pricing: Margin improvement via cost savings
Examples: Kopperfield offers end-to-end EV charger installation. Helio has built a home electrification company, and Sealed started with insulation and weatherization but has expanded further to HVAC. BlocPower is upgrading heating systems, focused on multi-family residential. TopSoil is used by consultants to guide farmers in transitioning to regenerative ag.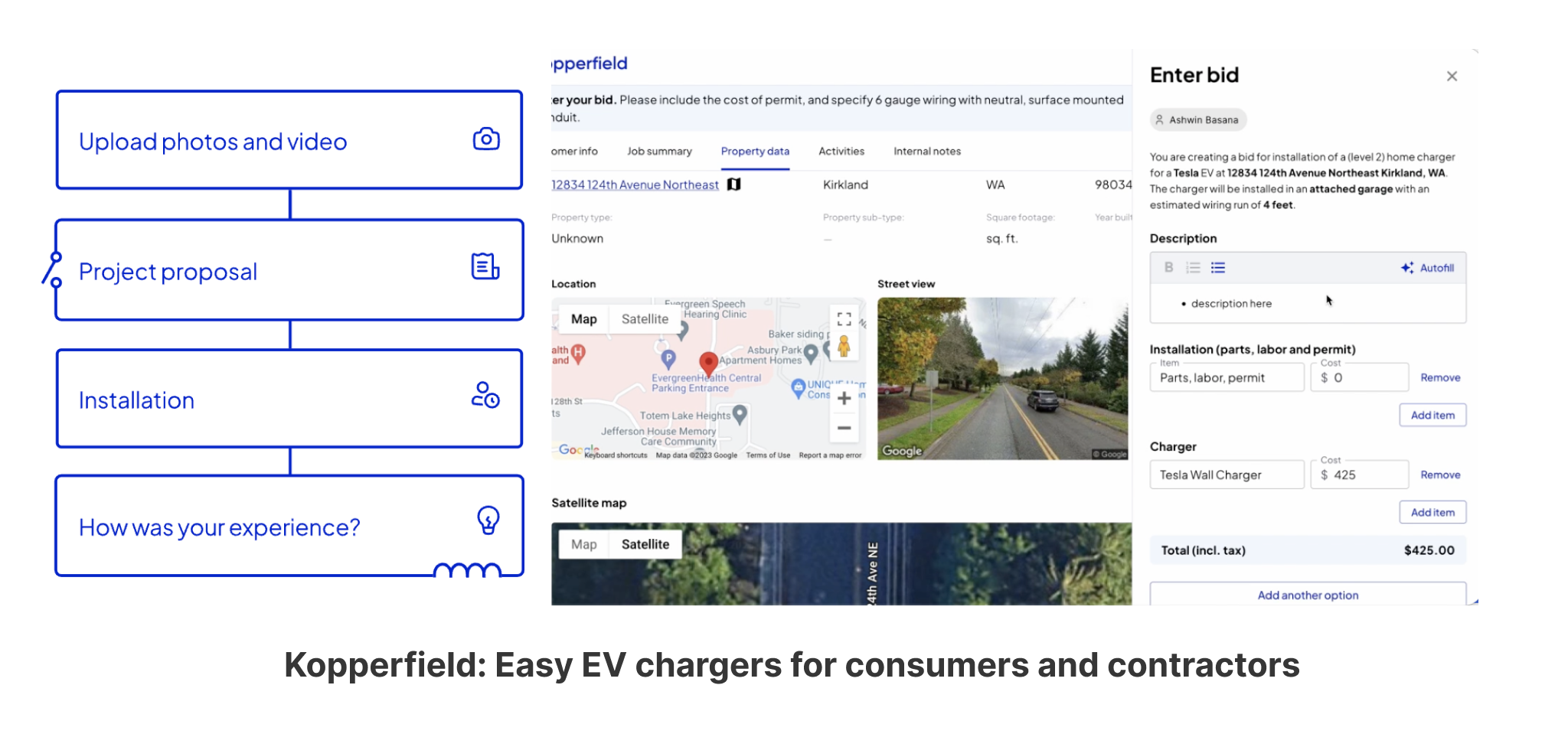 Devices
The consumers of today already expect their home thermostats and cars to be software driven experiences. However, most devices remain disconnected. In a home alone—most people's refrigeration, water heating, cooking devices, dryers, etc. are all operating without real-time utility information. From both a cost and grid health perspective, we need both consumer and commercial devices that can operate more intelligently. This won't happen with new software or hardware alone, rather it requires packaging the two together in a new generation of products.
Analogies: Ring, Kindle, Oculus, Apple
Pricing: Device purchases
Examples: Altus Thermal is building a new water heater system that incorporates a thermal battery that "charges" at the most efficient time. Therma builds connected sensors that monitor commercial cold-chains and can cycle off refrigeration opportunistically. Gridware monitors power line health in realtime. Channing Street Copper and Impulse are building induction stoves with included energy storage that reduce installation complexity while giving your home a big battery. Mill launched a new connected kitchen scrap bin that plans to make chicken feed from food scraps. Span builds smart electrical panels to become the intelligent home hub. Remora is building a carbon capture device for long haul trucking. Gradient, Quilt, and Dandelion Energy have all built much better devices for heating and cooling our homes. And of course the massive and fun category of electrified transport: from Tesla to Rivian or to glimpse the future of boating or camping you can look to Arc and the Lightship. All of these vehicles have deeply innovative software experiences, with users calling them a "giant iPhone on wheels."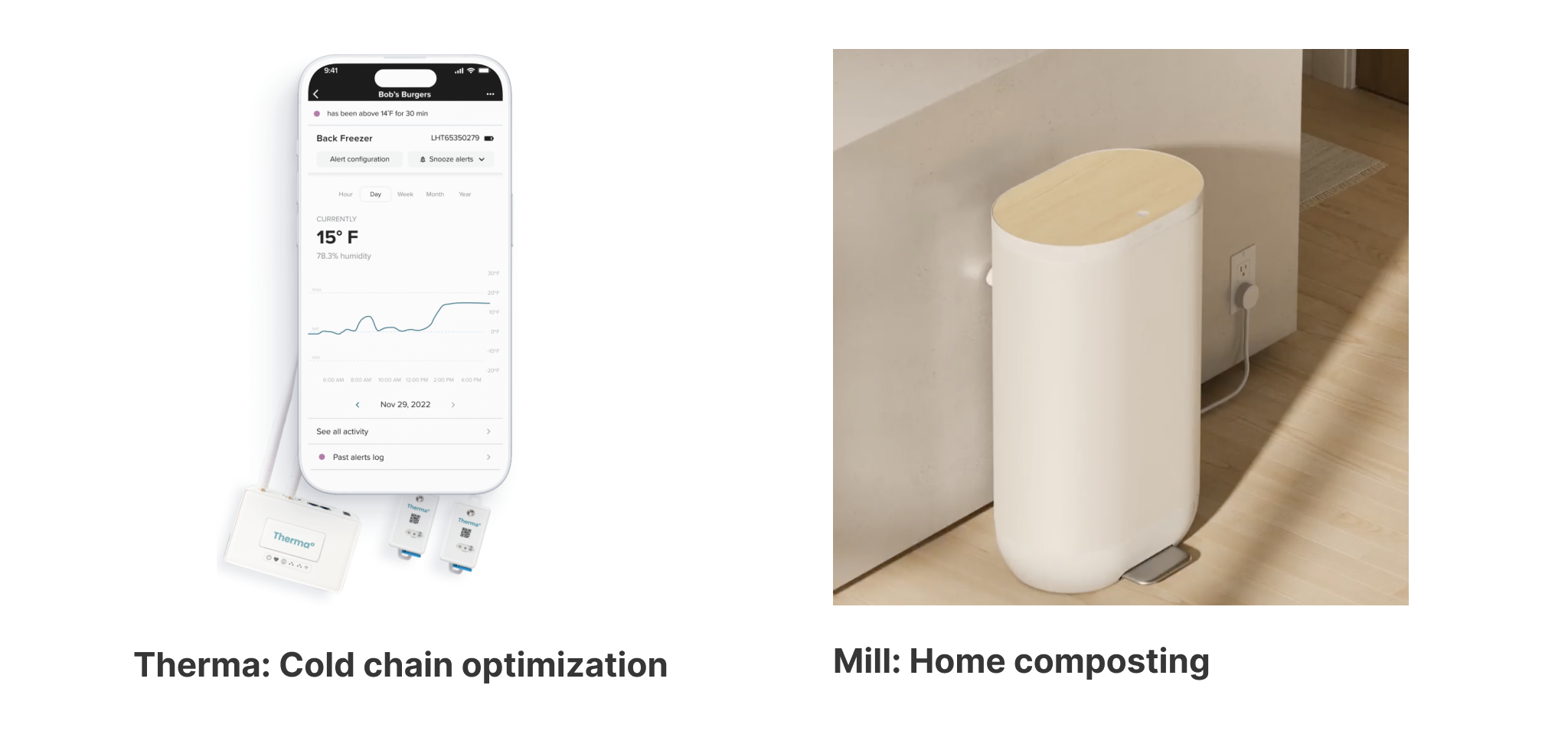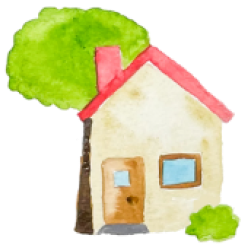 Who do you serve?
We need to build products for everyone, from individual consumers to the largest institutions and governments. There are new distribution partners to consider from banks and utilities to local governments and industry leaders. Approaching a new customer segment may be intimidating for product folks coming from consumer, B2B SaaS, or even fintech.
This is not a new muscle for you. If you work on marketplace product you already have many different segments you're thinking about—Airbnb ships products for small and large property owners, consumers, and even for governments and tax entities. Even Facebook and Google build a lot of business facing products—ranging from a healthcare business needing a HIPAA compliant version of Facebook Workspace to a government procuring a cloud provider. You may be surprised how your skills building consumer products or financial products gives you a head start in building impactful climate tech software.
Consumers
Consumers are considered one of the most challenging players in scaled climate impact. Each consumer has their own "personal infrastructure" that touches their fossil fuel consumption. While we know that no individual's emissions are significant, they are in aggregate. Consumers are increasingly overwhelmed by options, and ultimately want better products for less money.
Businesses
Business of all sizes navigate the overwhelm of consumers alongside an increasingly complex regulatory environment. Investors, employees, and governments are looking to them as pillars of progress. They may be mandated to report on efforts, and may be increasingly interested in sharing that progress with customers. Some categories of industry will also play an outsized role (e.g. utilities).
Financiers
Banks and fintech products have a significant role in bringing capital together for businesses and consumers to make change. Software can be used to streamline the financing process, match financing products to the right customers, and make it easier for everyone to manage paperwork. Software can be used to track the environmental impact of investments and help investors make informed decisions about where to put their money.
There are opportunities for funding climate projects with unique capital. Homeowners have numerous incentives and credits to figure out, and commercial properties can access financing products, like CPACE loans in the US. Today, managing financing is unwieldy at best.
Governments
Cites, counties, states, and countries are all pushing major policy and funding initiatives to motivate changes in their regions. However, once a piece of law is passed there are many partnerships needed to execute a program.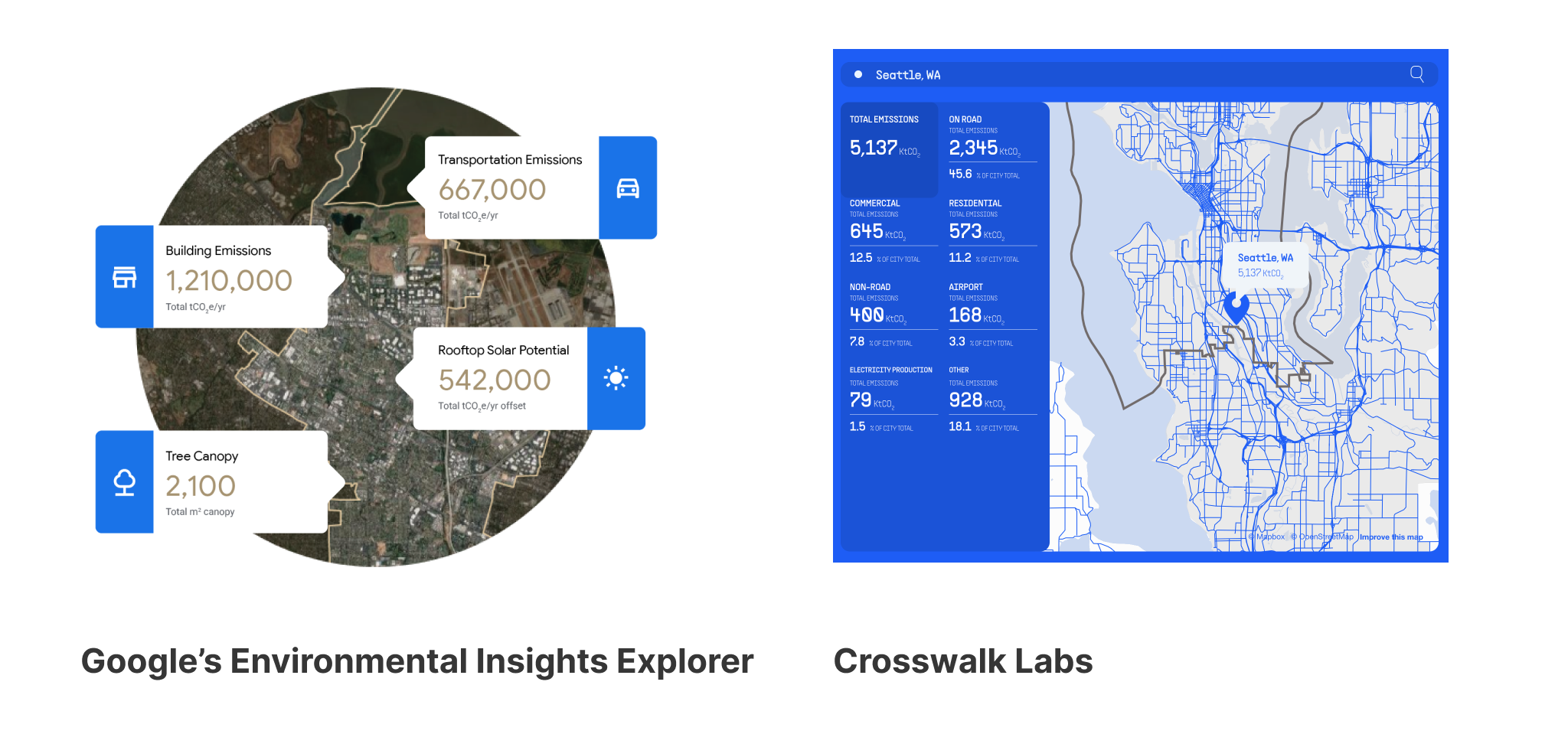 Institutions & Non-profits
There is a historical bias to view non-profit and government sectors as slow moving and challenging customers. This a unique moment—a rare collective urgency. Many new, innovative organizations are trying to figure out our collective project of transition. Many cities know what they want to see done (e.g. hit net-zero in 15 years) and are very keen to find technology partners to help them de-risk their goals and get their faster. We may want to think of these entities as distribution partners vs. explicit customers in many cases.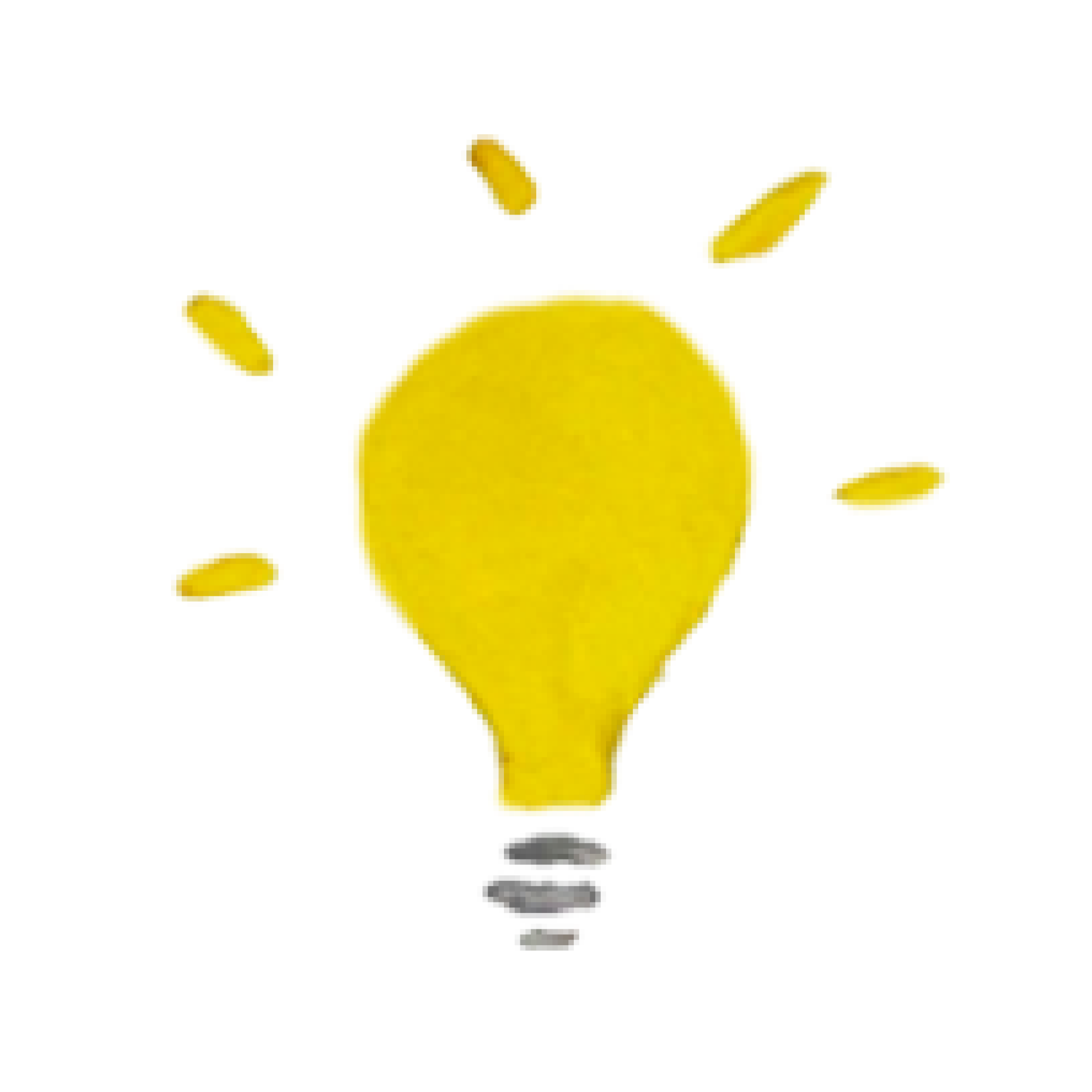 How do you learn?
In any good product development, we seek to understand before we build. User interviews, prototyping, and iteration are fundamental steps in the journey to product success. We suggest viewing your transition to climate tech like building a great product: gather context to start, and then learn by prototyping.
Gather Context
The first goal is to find your direction in climate by accumulating context. Just like showing up to Costco with a shopping list, you can save yourself a tremendous amount of time (and money) by having a sense of what you're looking for.
1) Talk to others
Have at least 3 conversations with people working in climate. This will help you understand what you bring to the problem, and will motivate the rest of your learning. You'll get to hear yourself articulating what you want and don't want from your next role, all the while developing long-term connections that often become invaluable for the future.
Not sure who to talk to? The Work on Climate expert office hours are an easy way to schedule a call as early as… tomorrow. Reach out to friends or even distant colleagues who have made the switch—this is gospel that we all like to preach and they'll be happy to get a friend into climate. If in doubt, shoot us a note!
2) Learn how you learn best
You might find yourself wanting to learn about climate change as a whole before focusing in on more niche topics. If you enjoy reading, Speed & Scale and Drawdown provide fantastic overviews of the space. If podcasts are your jam, My Climate Journey and Catalyst are a wealth of knowledge. If you want to take time between jobs or expand your network first, you could consider experiential programs through Terra.do, Climate Vine, or the CELI Fellowship. If you want to explore more online resources about specific topics, there's a great reading list by Watershed and starter packs by Work on Climate. Find these links and many more our Appendix!
3) Learn together
Before spending too long in your shell, join the larger community of folks just like you! Slack communities such as Work On Climate and My Climate Journey are unparalleled ways to access a firehose of information and interesting people at all times. These hyperactive Slack groups have become the digital fabric of the climate tech ecosystem alongside public conversations on Twitter, LinkedIn, etc. The majority of U.S. based climate-tech founders, investors, and builders are either members themselves or have a colleague who is.
Learn by Prototyping
At some point, you might be ready to get your hands dirty but not yet join or start a company. In climate tech, since there are so many people in this whitespace between leaving their last job and starting their next one, collaboration is ultra low-stakes and easy to find.
No matter how you get going, find the people you are building for. One week in Iowa talking to farmers taught us more than six months behind a computer "researching" agriculture. Two days at a solar conference talking to installers, sales teams, and solar manufactures established in us a surprisingly deep understanding of residential solar. Instead of pontification about the needs of a city, we met with local leaders, the permitting office, builders, and homeowners in Seattle.
These types of experiences always seem harder to find and organize than they are. Yes, it requires a certain activation energy to fly across the country and walk through pesticide-sprayed corn fields, or wander around a conference hall full of strangers. Yet, If you can pull them off, these types experiences will confer a tremendous amount of knowledge one can apply towards the next step of deciding what to dive in on.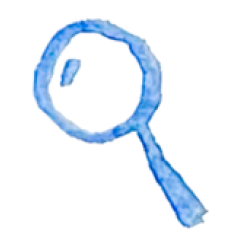 What should you do?
The opportunities and ways of working on climate tech are vast. It is ok to explore new ways of working (or trialing work) while you transition into a new area. In this section we'll go deeper on four potential paths:
Change your current company from within
Join a company (non-profit / for-profit)
Advise, consult, or invest
Start a company (non-profit / for-profit)
We'll cover each of these in just enough detail to get you thinking, but ultimately you'll have to determine which is the best use of your strengths to solve a real problem and suit you best at the moment.
Change your current company from within
Something you'll hear a lot in climate tech is that not everyone should leave the role they are in to maximize their climate impact.
The best way to think about how you can impact climate from within your company is to talk to people who know your company well or who know climate well. Bring this up during your first three climate conversations to start. Then, consider who at your company might be interested in doing some brainstorming and kick things off with a casual conversation.
Drawdown Labs focuses on this concept specifically, and has a wonderful how-to-guide "for employees looking to make every job a climate job." If you work in tech, there is an entire grassroots community to support you through this process.
Join a company (non-profit / for-profit)
There are a number of exciting companies out there. It can be overwhelming to get a sense of the space of opportunities, so here's an approach that we have found works well in the nascent industry of climate tech:
1) First, find the best companies (that match your interests)
How do you do this? Counter-intuitively, we don't think you should start with the job boards as these companies may or may not have any public job posting or the ones that immediately seem like your next role.
Fortunately, investors have already picked some of the best companies—you just have to identify the top investors with aligned interests. A few top general investors that are commonly thrown around include Breakthrough Energy Ventures (BEV) and Lowercarbon Capital, but it is worth going through this list and this one to see if any suit your particular interests. For example, Trailhead Capital and AgFunder are top investors in ag-tech and can each provide you with far more ag-tech companies than BEV and Lowercarbon combined.
2) Then, see which you are interested in
Once you have a few investment firms that you think provide a good filter for what you're looking for, view their portfolios on their website and get clicking. Use a spreadsheet or an Airtable to track your clicks, and record what you think of each. Soon you'll develop a sense of what size company, type of product, and teams speaks to you.
For the companies you're most interested in, see if you can find videos or podcasts about the company or with the founder being interviewed (Pro tip: search for both the company name and each of the founders' names). If you can, dig into user sentiment online and see if they have product/market fit. The point here is that you can learn a lot about the company without waiting weeks to schedule a call.
3) Last, share your excitement
At this point, you'll have a handful of companies you are head over heels for (if not, repeat 1 → 2). The next task is to get in contact with someone as high up at the company as possible, and share your excitement. They will sense in you a genuine passion, backed by a clear understanding of what their product is and how it helps their end user! If they're not hiring, they may create a role. If they don't normally hire contractors, they'll make an exception. If they are a mostly in-office team, they'll let you work remote. These teams want to move fast and with high energy help. Show up, and let your natural excitement do the rest.
Advise, consult, or invest
Another approach is to take a step back and operate at a higher level or across multiple companies. Let's cover some common stories that we hear:
Story: You want to learn from contracting with multiple companies before placing all your eggs in one basket.
Great idea. Believe it or not, anyone can begin contracting with companies with fairly little effort. We have found ourselves contracting or advising multiple companies, and demystified the idea that getting "deal-flow" was hard in contracting. One couple found a lifetime of clients in 3 months of engaging with Slack communities. It turns out, if you're genuinely interested in what companies are working on and have valuable skills to offer, they often will take you up on it. You don't need a complicated setup—getting hired as a 1099 contractor (without an LLC) is perfectly okay, and easy for most companies to do.
Story: You are burnt out from your last company, and you want to advise part-time while you think up your next startup.
Perfect. Becoming an advisor to a company is not only for ultra wealthy people or for those with multiple c-suite positions on their LinkedIn. By simply being useful and helping new founders you can get surprisingly far. You might also find that you fit perfectly as an advisor at a venture studio such as Ezra, a scientist at BEV, or a helping hand in the many Slack communities. If you have a strong product background message Ben about advising product-led companies he's involved with or if you're more design focused you can talk with the Designer Fund.
Story: You want to try your hand at investing.
Even investing, in climate tech, is fairly non-exclusive beyond the usual capital requirements of being an accredited investor. If you have money you are open to investing find the companies that excite you, message the founders, and see if they are open to an angel investment. If this is your first time angel investing, start with consistent small checks to learn. You could also become an LP in a fund—for example, Ben is raising a targeted fund to help product climate tech founders. MCJ Collective is always looking for aligned LPs, and angel investing groups are easy to find on the Slack communities. You could also become a scout at any one of the venture firms with scout programs, and help accelerate another VC firm into a climate tech VC.
Start a company (non-profit / for-profit)
Founding a new venture is both the highest risk and highest reward path you could take. Since plenty of general startup advice exists out there, we'll focus on some elements specifically related to starting a climate tech company.
1) Notice common bad ideas
Bad ideas are everywhere in climate tech. Why? Founders can be overly idealistic, and the economy is blatantly capitalistic.
Bad ideas are idealistic. They take more from the customer than they give. They don't lead to a measurable impact. They are thought of as "good" when founders haven't done the deep work to understand the complete system, actual bottlenecks, and existing market. There are hundreds of good ideas that too few people are working on, so there's no reason to pick a bad one.
2) Find a good idea
If you're in need of inspiration, one place to start is Y Combinator's great Request for Startups: Climate Tech. If any of the ideas speak to you, dig deeper and talk to a few experts about the specific idea. Use the aforementioned Slack groups, expert office hours, or cold-outreach to founders in the space.
You'll find that many of Y Combinator's ideas are unanimously agreed upon, but often don't speak to a single user that would pay to have a specific problem solved. You need to speak with the people that work around these ideas; by acting curious and not asking leading questions (read The Mom Test) you might find they all echo the same pain points that you could actually, miraculously, alleviate in one elegant solution.
Once you have a compelling idea, the only way to validate that it's truly good and exciting to work on is by trying.
3) Start small
Congratulations! If you've made it this far, it's time to try out some ideas.
Instead of fundraising tomorrow to become "the Tesla for heatpumps," find a single user that experiences the problem and build a solution they will pay for. If you're building software this might take a few weeks (we've seen it done before) or a couple months. If this feels entirely unachievable, you may not be focused enough. If your idea is limited by hardware, are you able to use off-the-shelf components and still get to a profitable first sale?
Once you understand the complexity of getting your first revenue, you will have a much better sense of the underlying sustainability of your idea and the possible business models. You'll be ready to have informed conversations with potential co-founders and investors about:
Bootstrapping
Entrepreneur in residence programs
Incubators / Studios (Greentown Labs, Ezra)
Venture capital
Government grants
Debt financing
If you decide to form a non-profit, you can consider an accelerator such as Fast Forward to get you started. Research who funded other top climate non-profits, such as Spark Climate, Rewire America, or Grantham Foundation, and get in touch. More generally—find other climate tech non-profit founders (not us) and ask them for advice!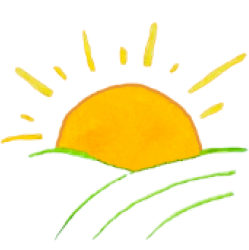 Some closing perspective
We are at the beginning of a wave. The existential drive and motivation to work on climate problems is clear, but it can be hard to see how unique this moment is. Consumers, businesses, and governments are sounding the alarm about the need to spend tremendous dollars and effort to bend the path we're on. And yet, everyone who works deeply in the space knows that we have no silver bullet. We need more solar and nuclear and to replace every gas appliance we can and to electrify transport and to revolutionize agriculture and to build a new financial stack and and and and. The scope of this transition requires us to blow on hundreds of dandelions to scatter thousands of seeds of ideas and talented people to build over the decades to come.
We want to let you in on a little secret. Working with other people who have chosen to work on climate tech is an unusually tremendous joy. Everyone is trying different things, utilizing different skills, but ultimately trying to get us collectively heading in the same direction. There is an abundance of massive problems to solve that there is no room for industry territorialism. People are collaborative and deeply humble in a way that takes the standard pay-it-forward feelings of the tech industry and amplifies and rebirths it. The climate tech movement is ultimately born out of a different time and a different level of awareness than past segments and categories. Everyone is trying not just to do hard technical work, but impactful work. Not just work that makes money, but helps the world hit major targets. Not just improving the lives of customers, but centering their work and mission on climate justice. This is a rare moment, with a shockingly small set of people that all deeply care and just want to get good shit done.
We hope you'll join us.
-Ben & Nathan
For future updates on this guide, and to follow along more explorations on climate change, technology, and parenthood you can subscribe here: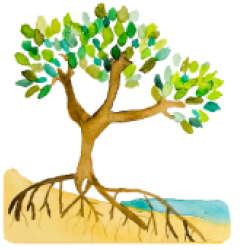 About the authors
This guide was written for product builders (engineers, designers, product leaders) and technologists who want to make an impact in climate, but don't know where to start. We, Ben and Nathan, have been in your shoes and this guide is a note to ourselves 2 years back that would have helped us move faster. This is not for everyone, nor does it cover everything. It is written from the perspective of software product builders trying to find the biggest impact we can make building software.
About us—we're two brothers who have had privileged careers in tech: collectively, we've founded 4 companies, invested in dozens of others, and worked at companies from Stripe and Google to Airtable and Aquabyte. We've had the joy of some extreme product successes, and some spectacular failures.
Over the last three years our conversations have continually turned to the climate crisis and society's response. We went from understanding to fear. From fear to anger. From anger to motivation. And from motivation to planning and action. This is the beginning of that action.
We've both decided to spend the next decades of our lives focused on helping to accelerate society's response to the climate crisis. The two of us now have the privilege, and therefore the responsibility, to do work on a longer time horizon. We will judge our work now not simply based on our peers' opinions or our bank accounts, but based on how we feel when we sit with our kids, nieces, and nephews a decade or two from now and reflect on how we spent our time. That's who we're optimizing for.
We welcome thoughts, feedback, and conversations about how we can help you get involved.
Ben Shwab Eidelson - climatepapa.com / Twitter / LinkedIn / Email
Nathan Eidelson - nathaneidelson.com / Twitter / LinkedIn
How we made it
This site was built from scratch and for fun using Next.js and Tailwind (for other projects by Nathan, checkout TheShareWay and Raddish).
Thank you to Nan Ransohoff and Cody Simms for contributing their frameworks and to Nicole Kelner for making the climate revolution irresistibly beautiful and adding a splash of color to this guide.
A special thanks to the following folks for reviewing earlier versions of this guide and providing invaluable feedback: Arthur Shwab, Steven Zhang, Betty Chang, Peter Ehrlich, Adam Hasham, Matt Yao, Noaa Avital Cohn, Dave Nunez, Joseph Smarr, Michael Leggett, Anna Shwab Eidelson, Nikita Gamolsky, Kiran Bhattaram, Jonathan Wondrusch, Christophe Jospe, Dan Myers
Note, nothing here is investment advice. We are investors, advisors, directly or indirectly involved with many companies listed or discussed as examples.
---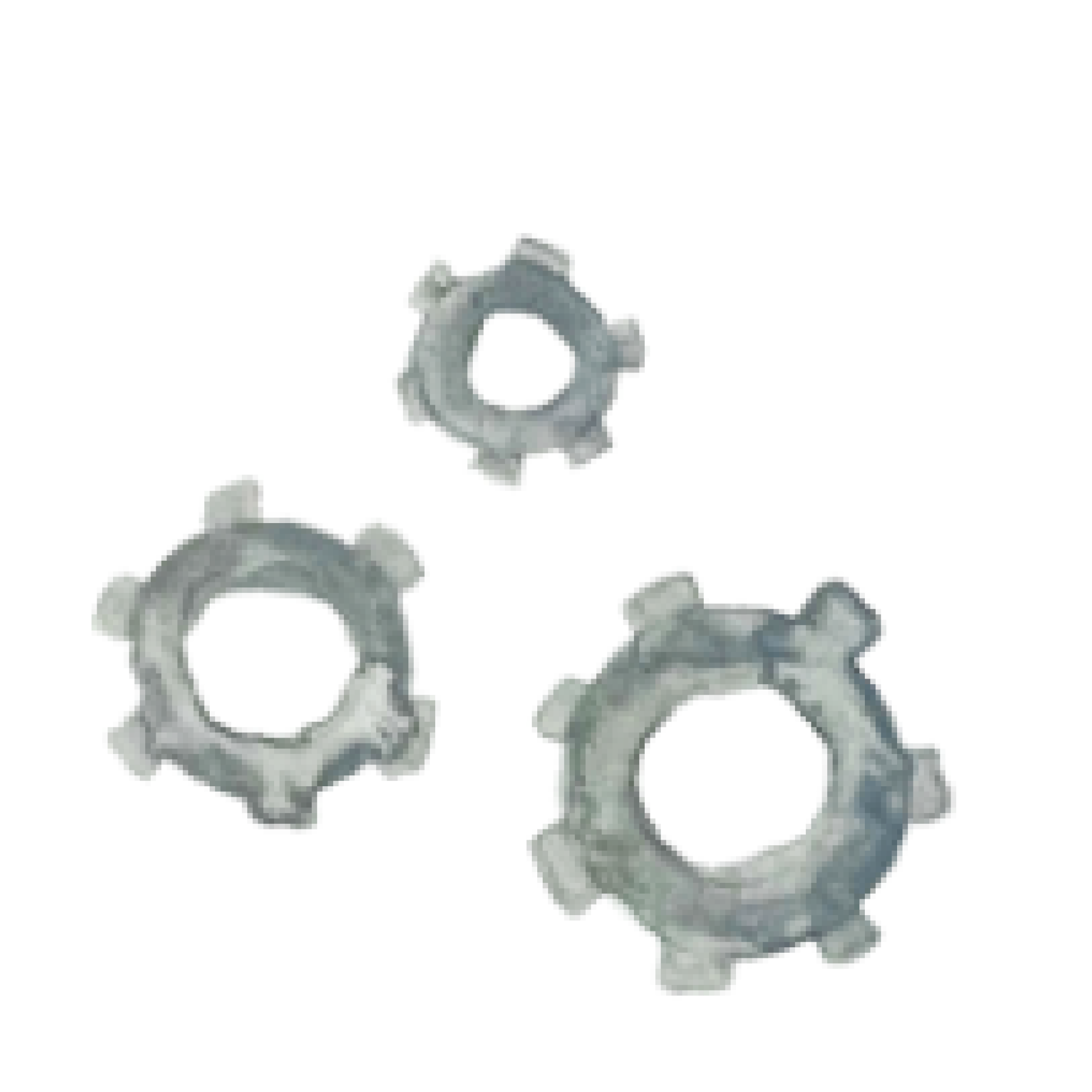 Appendix
Here are some links to some of our favorite resources:
Meta-links
IEA Tracking Clean Energy Progress
Watershed Climate Reading List
Breakout Climate Tech Companies
YC Request for Climate Tech Startups
High-level Plans
Drawdown: The Most Comprehensive Plan Ever Proposed to Reverse Global Warming
Speed & Scale: An Action Plan for Solving Our Climate Crisis Now
Books we've enjoyed
Farm (and Other F Words): The Rise and Fall of the Small Family Farm
Superpower: One Man's Quest to Transform American Energy
Drawdown: The Most Comprehensive Plan Ever Proposed to Reverse Global Warming
How to Avoid a Climate Disaster: The Solutions We Have and the Breakthroughs We Need
Podcasts
Articles & Newsletters
Carbon Dioxide Removal (CDR) Primer
A mental model for combating climate change & Finding a job in climate
Communities
On Climate Impacts
The IPCC 2023 Report and IPCC 1.5 ºC Special Report